In this competitive world – with hundreds and thousands of competitors around – it has become a challenge for businesses to tempt customers towards their products and services to drive more sales. Companies are researching and investing a large sum in innovative marketing tactics to achieve their sales target. In this regard, along with many other effective practices, one of the best marketing techniques, visual merchandising, can't be overlooked. So, in this blog, we'll have a look at what is visual merchandising and why it is important for your business success. 
Accounting Firms is the best platform to promote and market your Accountancy & Taxation businesses, where you can sell your accounting, bookkeeping, tax and business advisory services to a large customers base. Register today!
Let's kick off with its definition!
What is Visual Merchandising?
Visual merchandising is an extremely amazing retail/marketing practice that influences consumers' behaviour and incites them to buy your product. Wondering how? As the name suggests, visual means sight or vision, whereas merchandising is to market or promote a product. Hence, it is the method to attract customers through their senses.
In this way, visual merchandising is a clever way to display, decor or present products in such a way that touches customers' senses and raises emotion, persuading them to buy your product. This technique harmonizes the product with the environment, space and creates a suitable atmosphere encouraging your customers to buy the product or service.
Visual merchandising is an effective marketing tool to showcase your products and services, highlight their benefits and features with striking store displays. Here, products and services are enhanced using lighting, floor plans, colour, patterns and styling in such a way that produce a balanced and eye-catching view, urging customers to buy your product or service.
The money, time and efforts spent on this marketing practice are worth everything, as it will give your business a prompt boost like never before.
Importance of Visual Merchandising
Undoubtfully, visual merchandising is a great way to grow your business with its lots of benefits. It is a crucial retail marketing technique that is necessary to get high traffic and customers. With an attractive space, it entices customers to buy from your store, enhances sales and boosts repeat sales.
However, still, there are few drawbacks of this method that you can't ignore. Let's see why visual merchandising is important and what are its disadvantages.
Are you an Accountant or Accounting Firm looking for potential clients? Set up your online account at Accounting Firms to get more leads and sales like never before. Register now in under three minutes to get started!
Advantages
Visual merchandising is advantageous in many ways. Some of the common advantages include:
It attracts and increases customers to your stores
Effective visual merchandising can drive more sales and profit
It provides a positive shopping experience for your customers
This technique maximises the potential of your retail space
You get the most value out of every product you sell
Disadvantages
Along with the above-mentioned advantages, there are a few disadvantages or hurdles of visual merchandising that you need to be aware of. These include:
It might cost you more at the start to install, fix and improve everything
The change of space and layout can be difficult and time-taking
You need to do more work due to more customers, sales and deliveries
How to Improve Your Visual Merchandising?
There are multiple ways to improve visual merchandising. If your business has an online presence, you need to work on its display to provide a better user experience engaging your potential customers towards your product or service.
Here are some of the tips to improve your in-store visual merchandising: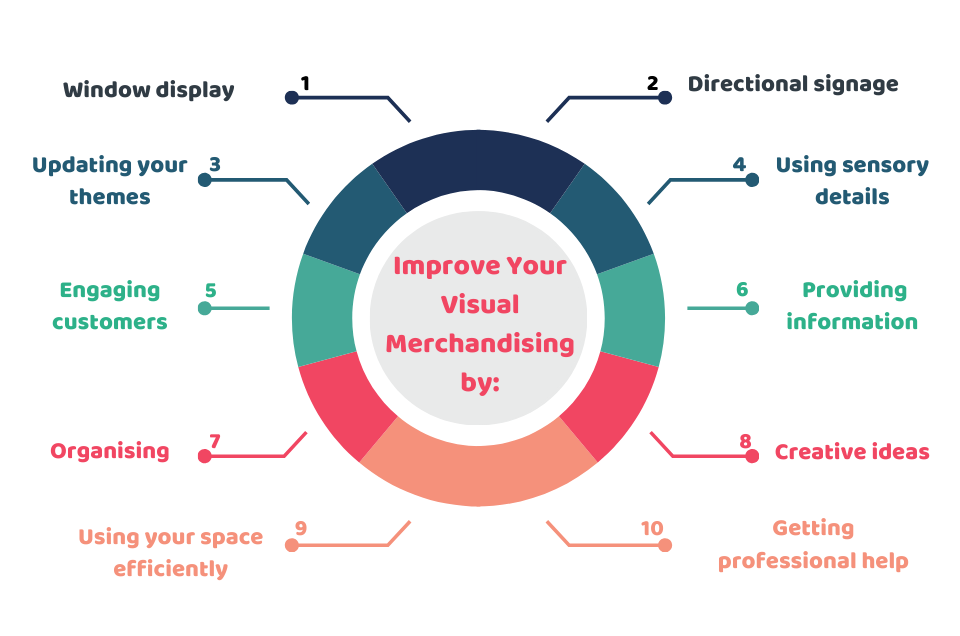 Use window display
Use directional signage
Update your themes regularly
Use sensory details to improve customer experience
Engage your customers
Use information that your customer might ask
Organise your store and be creative
Utilise your space efficiently
Get help from a professional
Quick Sum Up
We hope that after giving this post a read, you are now well aware of what is visual merchandising and why it is so important. In short, visual merchandising is a marketing technique to use colour lighting, displays, styles and other elements to retain customers and boost your sales. In this competitive world, you can't attract a large customer base without implementing this technique. So, it is one of the best ways of marketing to grow your business in a short time.
Have a query? Get in touch for instant help!
Disclaimer: This blog is written for your general information on visual merchandising.