If you are investing most of your time, energy, and resources in acquiring new customers, you've got your priorities completely wrong way round. Rather than focusing on winning new customers, you need to satisfy your existing ones to improve retention, get higher sales, and build brand awareness. Don't forget, repeat business spends 33% more on your product or service than new customers and refer your business 50% more than first-time buyers. So let's explore: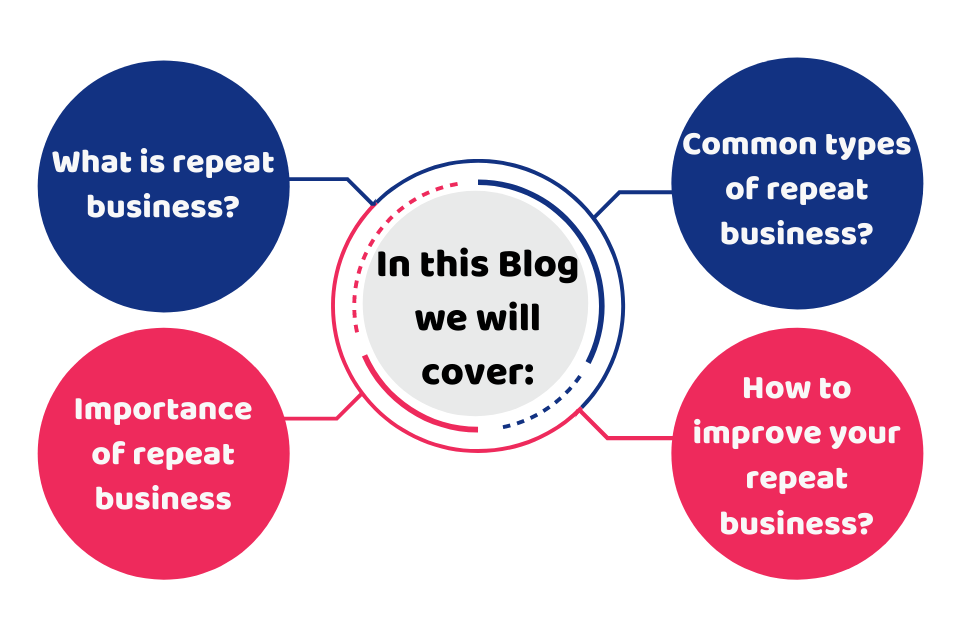 What is repeat business?

What are the common types of repeat business?

Importance of repeat business

How to improve your repeat business?
Looking for a platform to skyrocket your revenue with repeat customers?  Register today at Accounting Firms to sell your accounting, bookkeeping, tax and business advisory services to a large customers base!
What is Repeat Business?
Repeat business occurs when customers buy from your business/company repeatedly or regularly. Here your customers turn into loyal supporters of your brand and shop with you frequently over time.
Repeat customers increase almost 80% of your business revenue. This grows the bottom line of the business without increasing the marketing cost. You can earn repeat business by:
Offering personalised customer services

Loyalty programs

Giving out coupons

Offering freebies and so on
What are the types of Repeat Business?
Here are the common types of repeat business that you can start:
Consumables: 

These goods are used by almost all and purchased repeatedly, like vegetables, etc.

Services:

Services can turn into repeat business with a loyal customer base.

One-Stop-Shop: 

A business having a variety of products can be a repeat business by offering multiple products in a single place.

Rebuy: 

A rebuy can also be a repeat business where you can make a repurchase of the supply that has already been bought.

Subscriptions: 

You can do repeat business by offering subscriptions.

Razor & Blades: 

Such a business where durable goods are sold at a low price to increase the price of supplementary items. 

Cross-Selling: 

It is the method to sell additional services and products to a single customer.
Importance of Repeat Business
When your business turns into repeat business, your customers become the loyal supporters of your brand and buy items from you on a regular basis. It has prominent importance in the business world because it:
1) Boosts Customers' Retention
To grow your business, you need to retain customers towards your products or services. Customer retention is important to make a loyal customer base to buy your service or product regularly.
2) Promotes Your Business
By building a loyal customer base, you can promote your business for free. As the customers who love your product or service would share their experience with their family and friends.
3) Is more Profitable
Repeat business is cost-effective, yet profitable for your business, as customers spend more money on the businesses they trust.
4) Gets Eager Customers
Your repeat customers would be eager to buy your new product and it'd be relatively easy to sell than the new ones. With the trust they have in your brand, you can easily sell them your new products.
5) Saves from New Customer Costs
One of the important points of repeat business is, it saves a lot of your advertising and marketing costs that you can invest to get new clients.
Are you an Accountant or Accounting Firm looking for potential clients? Set up your online account at Accounting Firms to get more leads and sales like never before. Register now in under three minutes to get started!
How to Improve Repeat Business?
Here are some of the steps to promote and improve repeat business:
Create a custom loyalty program

Deliver excellent customer service

Spend money on after-sales support

Automate the customer conversations

Offer discounts and incentives

Introduce a reward system

Offer freebies and coupons

Maintain an active online presence

Get feedback and update your product
Quick Sum Up
To conclude, we hope that now you have got a basic understanding: what is repeat business? why it is important? And what are the steps you can take to improve your repeat business? In a nutshell, repeat business is way more profitable and cost-effective than acquiring new customers to increase your revenue.
The best way to turn your new customers into repeat customers is to offer consistent support and the best customer experience. With the customer retention strategies, you can improve customers' retention, maximise leads and boost your business profits and revenue.
Want to take your business to the next level? Get in touch for instant help! Signup now at Accounting Firms to connect with the Best Accounting and Tax Experts near you in just 3 minutes – All for Free!
Disclaimer: This blog is intended for the general understanding of repeat business.