For achieving your business goals, you need to have a business plan beforehand. A business plan will keep your business on track to reach your business goal. Writing a business plan can be challenging, but if you create it before starting your business venture, you will reap great benefits from it. It is required for the long-term growth of your business.
Let's dive into the steps for writing a business plan.
Writing a Business Plan- Steps to follow:
A business plan may vary depending on the various factors. Here are the general steps that are required to write a business plan.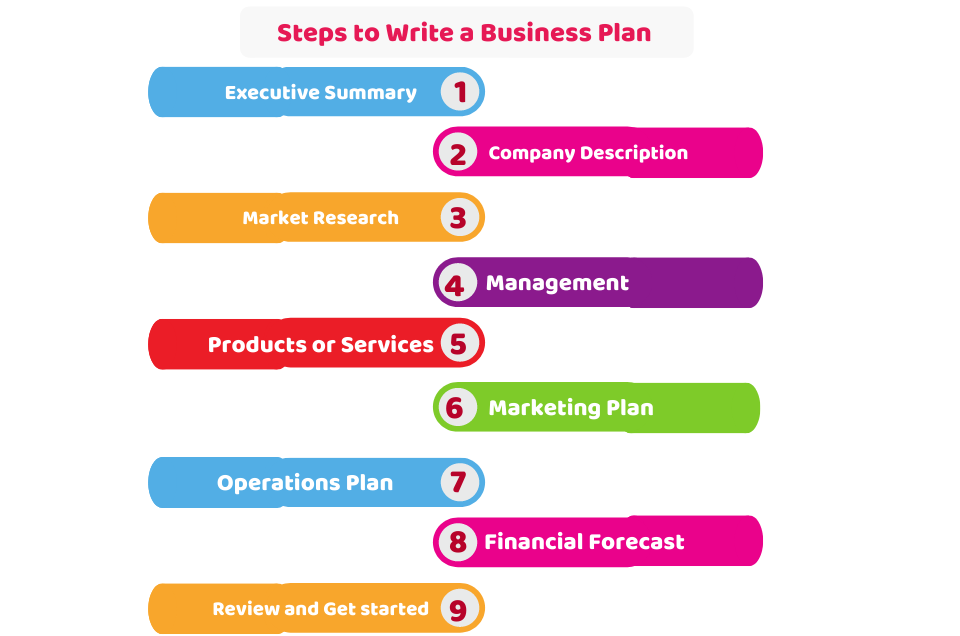 1) Executive Summary:
It is a summary of the key points of your business. It should be short and to the point. It should answer the main questions on which your business is based like, where it is located, what is the purpose, who runs it, etc.
2) Company Description:
A company description is longer than an executive summary. It tells more about your business like what is your business about, who are your target customers, where is it located, and what is the mission of your business.
3) Market Research:
You have to do deep research about the market trends going on. It includes your competitors, your customers and the ongoing market demands. It also analyzes the psychology of your customers and the inclination of your competitors.
4) Management:
It includes deciding the business structure, name of the owners running that business, your business strengths and weaknesses, and the roles of a different person in a business.
5) Business Products or Services:
After management, you need to ascertain what services or goods your business will be offering. How these products or services will benefit the customers and what makes your product unique from your competitors.
6) Marketing Plan:
Marketing is the key factor while writing a business plan. If you have a great product or services, but without marketing and advertising nobody will come to know about it. Therefore, to build a relationship with the customers and to let people know about your brand, you need marketing. You should know the marketing strategies, how you can reach your potential customers, how you will sell your product and through what channel you'll do it.
7) Operations Plan:
The operation plan includes the details of your production, suppliers, facilities, equipment, shipment and inventory. How you will cover your cost and how your business will face any uncertainty.
8) Financial Forecast:
You should make an estimate of your financial forecast through cash flow projections. It includes your current income and expenses, along with the projected income and expenses. You can get the financial forecast through the income statement, balance sheet and cash flow statement.
To get expert financial services, reach out to us right away!
9) Review and Get started:
The last point is to review your business plan. You can correct an error when needed or add any point that is you missed. Then, you have to form a strategy to implement a business plan accordingly.
Quick Sum Up:
After writing a business plan, you need to review it and check it from time to time. With the passage of time, you may need to update your business plan. It is advisable to go through the business plan once or twice a year.
If you are looking for a person to manage your accounting needs, Accounting firm is here for your help. 
Get in touch with us right now!
Disclaimer: This blog provides general information on writing a business plan.