If you are up for getting a franchise rather than starting a new business, you need to do your research carefully beforehand to avoid the pitfalls associated with it. Read on to find out what is a franchise, how it works, what are its advantages and disadvantages and the ways to start a franchise. Before we look at its advantages and the process, let's kick off with what is a franchise!
Whether you want to establish a new business, set up a franchise, or expand your existing business, get in touch with our professionals at Accounting Firms to help out! Register today in under three minutes – For Free!
What is a Franchise?
A franchise is a business type owned and operated by a person (franchisee) under a large company (the franchisor). Franchising is the process where the third party (the franchisee) buys the rights to sell the product or services of the franchisor ( large business/brand) using its brand name.
So, in simple words, it is an agreement between the franchiser and the franchisee. This agreement allows the franchisee to promote services or products under the operating method and trademark of the franchiser. A franchisee needs to comply with the rules and regulations of the brand for its growth.
How Does Franchise Work?
After signing a franchise agreement, you first need to pay a fee to start a franchise and pay monthly royalties. Monthly royalty can be a percentage of turnover, but it can also be a markup on goods supplied or other options may also be flat fees.
Against the cost, the franchiser also provides an initial training session and ongoing support. A franchisee can contact the head office in case of any issue. They can also take help from another franchisee for practical advice on overcoming business challenges.
Here are some of the main types of franchises:
Business Format Franchise: It is one of the popular forms of the franchise where an established business (franchisor) sells a license to another business (franchisee) to do business using their name and business model.
Product Distribution Franchise: It is essentially the relationship between the supplier and the dealer. Here, the franchisee sells the products of the franchisor. This practise is common in the car and fast food industries.
Manufacturing Franchise: In this franchise, the franchisee is allowed to manufacture and sell the products & services with the name of the franchisor.
Want to set up a franchise? Get help from our professionals at Accounting Firms. Register now for free to connect!
Advantages and Disadvantages of a Franchise
Here are some of the benefits of running a franchise:
Faster Expansion: A franchise can be easy to expand than starting a new business. A franchisor can help the franchisee right from the beginning to its expansion.
Lower Capital Cost: Once a business is established, you can expand it through a franchise without investing much cost in it. As it requires less capital as it is an already recognizable brand.
Access to Training and Support: The franchiser offers ongoing support and offers training for its growth from advertising, branding by providing access to its resources.
Better Performance:  As both franchisee and franchisor have a vested interest in a franchise, therefore they work collectively to earn more profit.
Fewer Risks: Compared to a newly established business, the franchise is less risker as it already contains an existing customer base and brand name. Here, there're always more chances of success.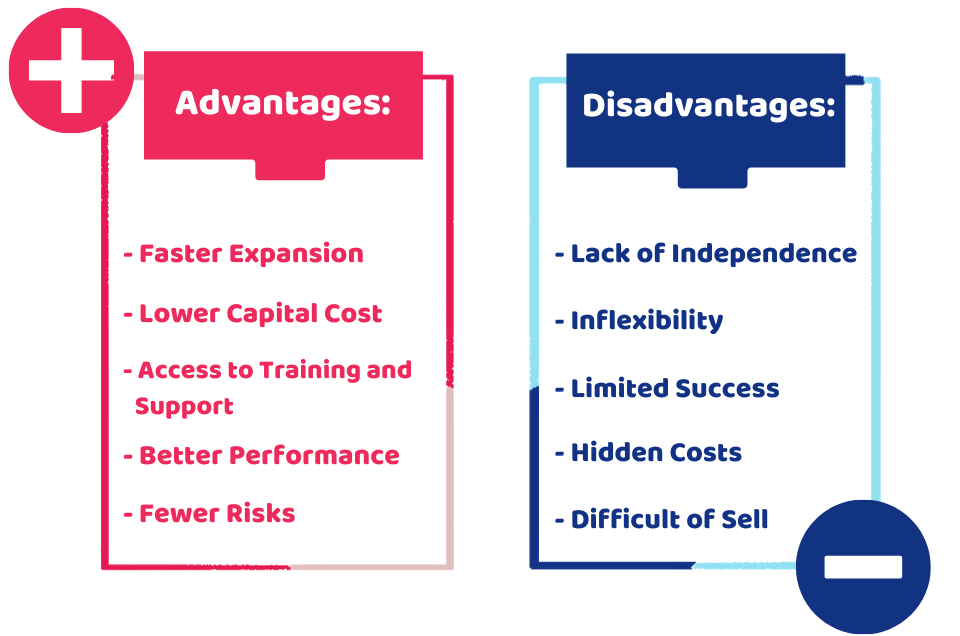 Along with these advantages, there are some of its downsides too. They include:
Lack of Independence: Here the franchisee is obliged to comply with the rules and regulations provided by the franchiser. So, a franchisee can not take all the decisions on his own.
Inflexibility: Franchise is an inflexible option to do business as the franchisee can't do the changes as per his wish as he's bound to comply with the franchise contract. So business format can't be changed or new equipment or product can't be introduced.
Limited Success: There may be a defined limit on how much you can earn or how is the main business (franchisor) is successful.
Hidden Costs:  There can be many hidden costs along with the mandatory costs.
Difficult of Sell: There are complications whilst selling a franchise as it needs approval from the franchisor.
How to Start a Franchise?
Follow the following steps to start a franchise:
Research different opportunities
Plan how to grow your franchise
Get financial and legal advice
Learn how to operate a business
Register as self-employed with HMRC
Manage everything properly
Quick Sum Up
So after giving this post a read, we hope you have understood: what is a franchise, how does it work, what are its advantages and disadvantages and how you can start a franchise. Note that this blog is just for your basic understanding of a franchise. If you're looking to buy a franchise, do your research first and beware of the challenges that come along with it. As with every great reward, there're great risks.
Need Help? Get in touch or Signup now at Accounting Firms to connect with the Best Accounting and Tax Experts near you in just 3 minutes – Register now for Free!
Disclaimer: This blog is written for general information on a franchise.