Wondering what is Job Seekers Allowance? Jobseeker's Allowance (JSA) is a taxable benefit for people who are not working full-time (works below 16 hours per week) or are unemployed. It is a benefit for people who are below state pension age. Though Universal Credit has replaced so many benefits of the people of working age but still some people get it. Let's delve deep into JSA.
Want to start your own business? We will register your business in no time. Get in touch with us now!
What is Job Seeker's Allowance (JSA)?
It is a government incentive to help those people who're unemployed or on a low income and are looking for a job. This financial benefit is for the people who're below state pension age and are looking for a job. If someone is unemployed and has paid Class 1 NIC, he/she may be eligible for contribution-based Jobseeker's Allowance (JSA).
If you have claimed Universal Credit, this allowance is known as a new style Jobseeker's allowance. There are two main types of Job Seekers allowance:
Income-Based
Contribution Based
Income-Based JSA
If you haven't paid sufficient NIC and you don't have employment or are on a low income, you can receive Income-based JSA.
Contribution Based JSA
You're eligible for contribution-based JSA if you've spent a sufficient amount on NIC as a working person in the last two years. Remember that you can contribution-based JSA for a half year (6 months), although you can get income-based JSA afterward. You need to know that contribution-based JSA can be reduced if you earn enough income by working part-time or from any personal pension.
Get help from our Qualified Accountants, Bookkeepers, Tax Experts. Compare their Services & Fee, and Signup now in 3 minutes at Accounting Firms! 
Eligibility for JSA
To be eligible for JSA, you need to be:
18 years old or over
not claiming a pension
not in full-time education
living in England, Scotland, or Wales
capable to work and looking for work
working below 16 hours a week on average
How Much you'll Get?
If you receive JSA, you are usually paid after every two weeks. Contribution-based JSA is: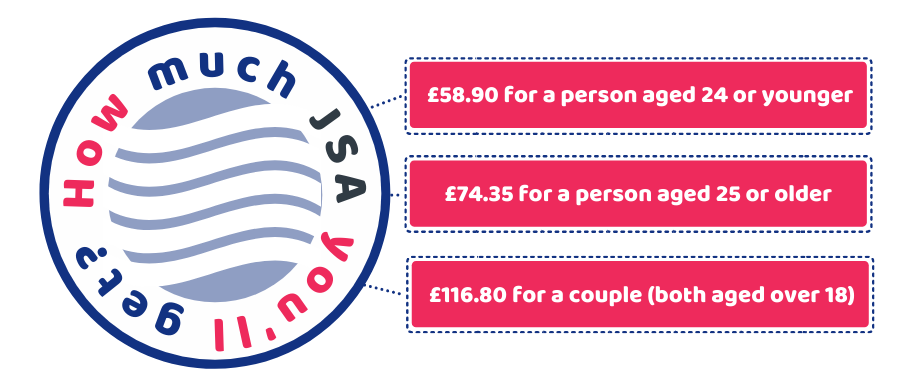 up to £58.90 for a person aged 24 or younger
up to £74.35 for a person aged 25 or older
up to £116.80 for a couple (both aged over 18).
How Can You Claim?
The very first step that you need to do is to claim for JSA is to fill in the online claim form for Jobseekers Allowance. After submitting the form, you need to contact Jobcentre Plus.
You have to wait for a week after the claim. If you can't apply online, you can get help from a telephone helpline. For this, you can visit the government website.
Quick Sum Up
We hope you have got enough information on what is Job Seekers Allowance, its types, how much you'll receive and how can you claim for it. Bear in mind that if your circumstances change after claiming the Jobseeker's Allowance, you need to inform it Jobcentre plus as early as possible. If you've made a claim for universal credit, you can report a change by logging into your online account. Change of circumstance includes getting work, moving with a partner, going abroad, etc.
Accounting firms have brought all the accounting businesses together in a single place. Register Today!
Disclaimer: This blog is intended for your general information on the above topic.