According to the Companies Act 2006, all private companies in the UK must have the constitutional documents: articles of association, memorandum of association. These documents are needed while incorporating a limited company in the UK that set the rules and regulations that a company is required to follow. In this blog, we'll be discussing articles of association and their importance.
Want to start your own business? We will help you to excel. Get in touch with us now!
What are Articles of Association?
These are the statutory legal documents that make the basis of the company's constitution. A0A set out the rules that company directors and secretaries must implement to run and administer a business. These articles cover: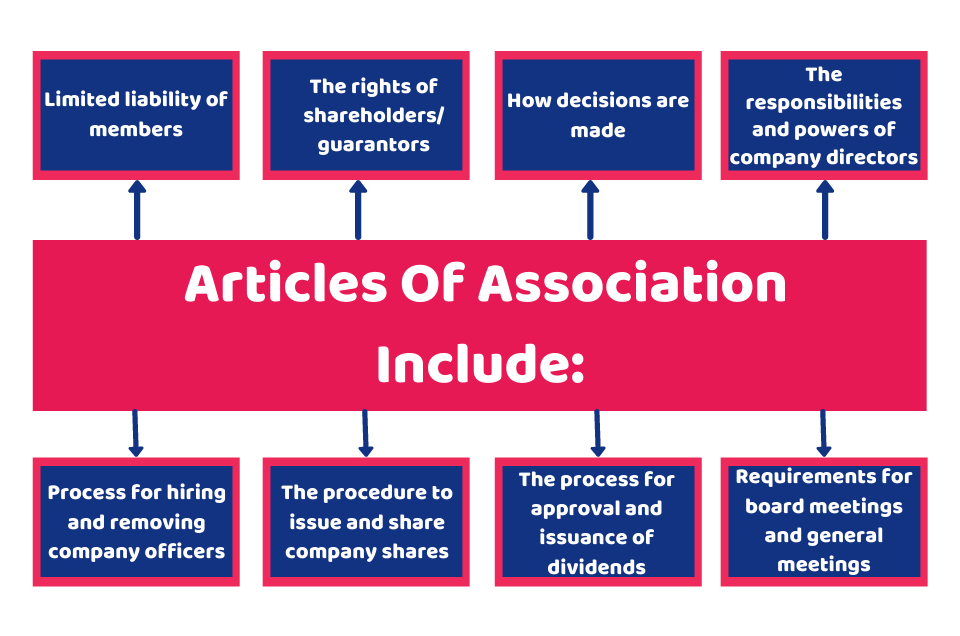 Limited liability of members
The rights of shareholders/ guarantors
How decisions are made
The responsibilities and powers of company directors
Process for hiring and removing company officers
The procedure to issue and share company shares
The process for approval and issuance of dividends
Requirements for board meetings and general meetings
All the company officers and members must be well aware of these articles and the business must keep a copy of these articles. You can view the articles of association online on. If they're not found, it means you're using a model article of association.
Model Articles of Association
These are the standard set of articles used by most companies. Generally, you can use these articles during the incorporation process unless you change or create your own. In addition, model AoA are suitable for small businesses having one or two directors and shareholders.
You can get and download these articles from here.
Importance of Articles of Association
The articles of association are one the most important documents of a company. With a memorandum of association, the articles of the association are used for incorporating a company. Preparing AoA is the founding stone of the company formation. These articles are important because:
They provide a set of rules and regulations for managing and controlling the internal affairs of the company.
These articles prescribe the power and duties of the directors and officers and the rights of the shareholders
AoA prescribe the relationship between the directors and shareholders
They provide provisions for the company's internal affairs like dividend policy, duties of an auditor, etc.
On breach of AoA, a member can sue a company to restrain any breach
AoA vs Memorandum of Association
The MoA is another constitutional document that all UK companies need. It is a document that is used for company formation and it lists down the name of initial subscribers and verifies that each individual agrees to:
Become a member of that company
Incorporate the company under the Companies Act 2006
Take at least a single share (for limited by shares companies only)
It is a public record that can be seen on Companies House and this document cannot be altered after incorporation or erased from the register of Companies House.
Quick Sum Up
To sum up, we can say that articles of association are important as they prescribe the rules on which a company must be run and administered. When articles of association are used with a memorandum of association, they form the constitution of the company.
Get help from our Qualified Accountants, Bookkeepers, Tax Experts. Compare their Services & Fee, and Signup now in 3 minutes at Accounting Firms! 
Disclaimer: This blog is written for general information on AoA.