Knowing your customers is the fundamental principle of an effective marketing strategy. To do it, you need to ask: Who will most likely buy your offering? What are their interests and priorities? Why they should buy your product or service? By getting answers to these questions, you can distill your potential customers from a large customer base. The key to successful sales efforts is to find the target market. But what exactly it is and how to identify it. Let's find out!
Showcase your services as an accountant, tax expert, bookkeeper, and business advisor at Accounting Firms. Register now!
What is Target Market?
In simple words, it is the group of customers for which you are offering your services or producing goods. Broadly, it can be categorised into an industry and is further narrowed down to a subset of that industry. To determine the target audience, the sales team needs to consider their age, behaviour, location and demographic characteristics, etc.
Though it sounds simple, yet it can be complicated if you offer products or services to a broader and diverse customer base.
Are you an Accountant or Accounting Firm looking for potential clients? Set up your online account at Accounting Firms to get quality leads. Register now in under three minutes to get started!
How to Identify Target Market?
Here are some of the points to find out the customers for which your services or products are aimed: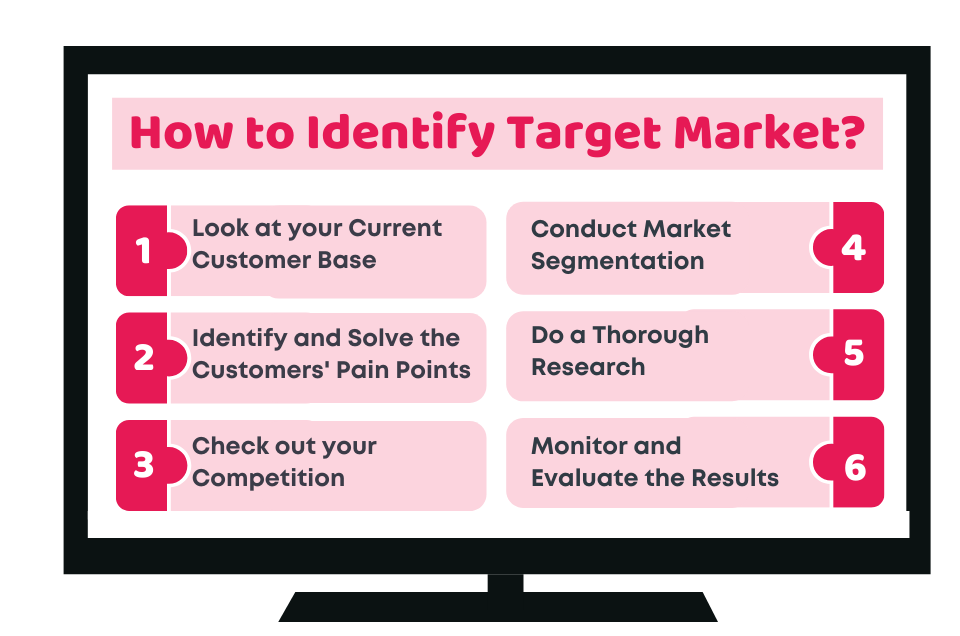 1) Look at your Current Customer Base
The first step is to identify your current customer base and why they are buying your services and goods. You can list down the common characteristics, interests and pain points of your existing customers base. As other customers may also share similar characteristics or interests that may attract them towards your offering.
2) Identify and Solve the Customers' Pain Points
You need to understand the problems that your customers face and how you will solve them. Once you identify the pain points, you can easily filter out the audience, which might turn into your customers in the future.
3) Check out your Competition
You need to analyse the offering of your competitors. Here, you also should know that who are they targeting. After getting detailed information, you can find out opportunities that your competitors are overlooking and the gaps that you can fill to reach a broader customer base. In this way, you can attract more people by offering more and better than your competitors.
4) Conduct Market Segmentation
Another way to identify the target market is to split your customer base by their age, gender, income, interest, behaviours, values, lifestyle, demographics and location. It involves the process of creating a buyer persona. You can further divide your customer base into certain groups by their professions or departments.
5) Do a Thorough Research
When you are done narrowing your market, you need to perform thorough research. The research includes finding the appropriate marketing strategy to reach your potential customers. In addition, you also need to know whether the market is large enough for your service or product. Doing the research will help your business for effective marketing.
6) Monitor and Evaluate the Results
Analysing the market is not a static process, rather it's an ongoing process. It needs continuous monitoring and evaluation of the outcomes. By doing it you can improve the areas where you are lacking and work on your marketing strategy as per the results to make it more effective.
Quick Sum Up
In the end, we will conclude that the target market offers the sales team essential information to fill the gap and reach the market for which the product or services are aimed. If you are not aware of the market that might need your offering, there are more chances that you could lose amazing business opportunities and sales. Therefore, you need to understand and analyse your target market for making your sales efforts successful.
Get help from our cost-effective, reliable and experienced professionals at Accounting Firms to sort out your financial woes. Register now for free to connect in under three minutes!
Have a Query? Feel free to get in touch!
Disclaimer: This blog is written for general information about the topic.