Want to start your own business or expand the existing one? Wondering how to find a gap in the market? Read on this quick guide to know everything about how your business can stand out from the competitors in this saturated market by spotting a gap in the market.
Finding gaps is one of the most important key success factors in the business world. However, it can be tricky to know the needs of consumers that the existing businesses are lacking. Though the process to identify gap in the market is daunting but its outcome is worth everything.
Accounting Firms is the UK's only instant Accountancy & Taxation Fee Comparison Website, where you can search, compare profiles, and read reviews of various professionals to get the perfect fit for your business. Register today to get in touch with them!
What is a Gap in the Market?
A market gap is a business opportunity to make and sell something that is not already available. You can find the market gap when you identify something that people are looking for, but it is not offered by someone else yet.
A gap in the market has, typically, three attributes:
it's something completely new or unique
it is an improvement or innovation to the existing idea
it's a way to sell something to a new market
Tips to Identify Gaps In the Market
You get one half of your business success just by identifying gaps in the market. Every successful business has first found the right business gaps in the market to boom before starting out. Be it Netflix, Airbnb or any other brand with a new product, service or innovation, finding the appropriate market gap can land you to success.
Let's see the 7 tips to identify the market gaps: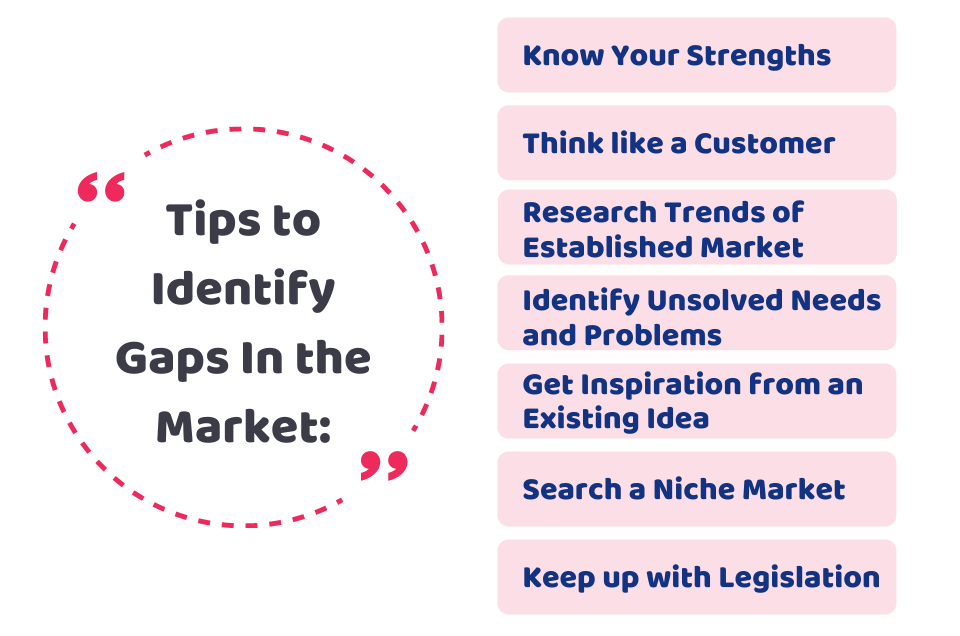 1) Know Your Strengths
Knowing your strengths, personality traits and interests is important to align them with your business idea. Finding a gap in the market is of no use if you're unable to take benefit from it. For this reason, before searching and identifying a market gap make sure that whether it matches with your strengths and personality traits.
2) Think like a Customer
Rather than being a business owner, you need to be a customer to understand your potential customers and their psyche, find out their interests, ascertain their needs and come up with the solution to their challenges. To get a better idea of their pain points, you should interact with them as much as you can.
If you don't have much idea about the customers' challenges, invest some time to know. The more you get to know your customers, the easier it'll be to identify the market gap.
3) Research Trends of Established Market
Research is the prerequisite to find an effective market gap. As in this dynamic world, trends are rapidly changing due to the advancement of science and technology. So, you need to be aware of all the trends in your business area and focus on the things that are not so obvious to other people.
Be it marketing, sales, suppliers, products or other processes involved, research them thoroughly.
4) Identify Unsolved Needs and Problems
Along with finding the problems faced by other customers, you also need to identify the problem you face as a customer. Remember that the market gap could only be recognised by finding a problem that is unsolved yet.
And identifying and providing a solution to an existing problem would attract your customers to buy your products and services.
If it sounds complicated, you can take help from our professionals at Accounting Firms. Register now for Free to connect with the professional. Contact now!
5) Get Inspiration from an Existing Idea
Most of the time, you'd find it almost impossible to come up with a completely new idea, but there's no restriction to take inspiration from other successful businesses and adapt it for your business. Whilst doing so, make sure you're not doing any copyright infringement.  You can get inspiration from your competitors by visiting trade shows and doing market research.
6) Search a Niche Market
Many small business owners think broadly when doing market research. But you need to niche down your search to find the relevant gap suitable to your business. You'd identify many gaps if you find a niche market where customers are underserved or can be served in a better way.
In addition, you can investigate other niche businesses in various industries to get the idea of how they've achieved success by launching a new, innovative niche product.
7) Keep up with Legislation
Sometimes there is a big change or turn in industries due to the legislation. Be it local, federal or state legislation, it can force industries to do the changes that they've never done before. If you're wise enough to forecast the legislative changes, you can find your market gap early and adopt it in time to get the optimal advantage.
For example, the Covid-19 restrictions for indoor gathering mean that businesses are going to provide outdoor seating areas to attract more customers.
Quick Sum Up
From the above-mentioned tips, one of the easiest ways to identify a gap in the market is to ask your potential customers what they are lacking or what improvement they need in the market right now. You can also find the gaps by keeping an eye on the global and local trends. However, a customer survey and bad reviews of your competitors can provide you with the right chance to identify the business gap.
Hopefully, after reading this guide, now you are well equipped with the required details to identify the most appropriate market gap for your business.
If you're looking for a cost-effective, reliable and experienced person, look other than Accounting Firms to set up and manage your business from scratch. Register now for free to connect with the best business experts at Accounting Firms.
Have a Query? Feel free to get in touch!
Disclaimer: This is just a basic guide for your general understanding of identifying market gaps.