Wondering how to buy shares in a company? In this blog, we'll discuss some super easy steps to help you out with buying shares to boost your income stream. Nowadays, many people prefer to buy shares instead of keeping their money in savings accounts due to the poor interest rates.
Investing in buying a company's shares can give a significant push to your investment as the value of your investment keeps on rising with the growth of the company. To get the most out of your investment, you need to know how to buy shares!
Let's have a look at the steps to buy shares in the company!
If you are a landlord, self-employed or a business owner, there is no better place to connect with accountants near you in just three minutes – For Free. And If you are an accountant, tax expert or bookkeeper looking for leads and sales, register now at Accounting Firms. It is the UK's first free comparative website connecting accountants and businesses in a single place!
How to Buy Shares in a Company?
Most people think that it is difficult to buy shares for the company but it is not that tough as it seems. Here are a few simple steps on how to buy shares in a company: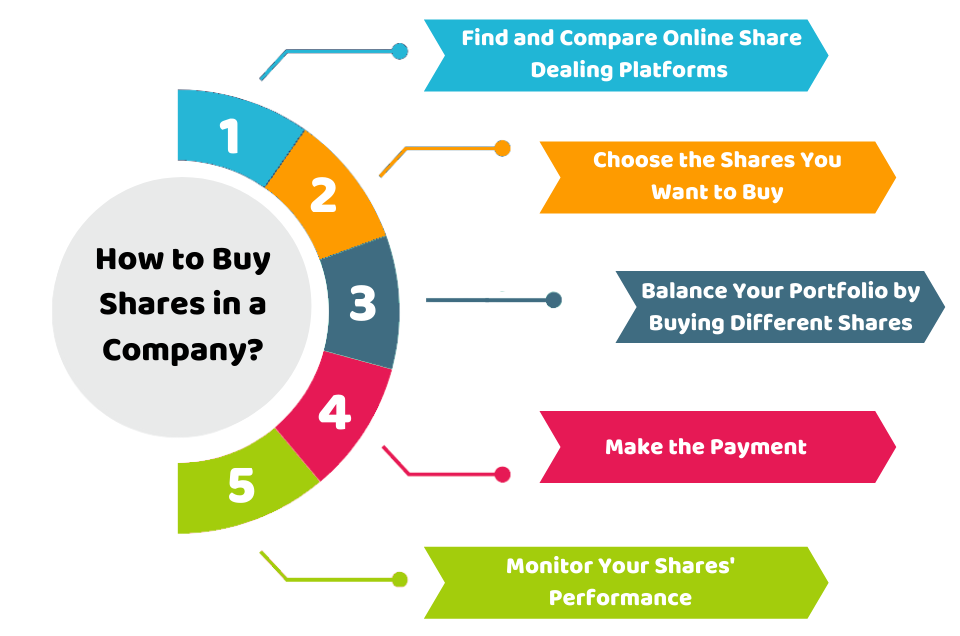 1) Find and Compare Online Share Dealing Platforms
The first step you need to do is to search online platforms where you can buy shares. These platforms act as online brokers where you can buy and sell shares. Before getting into it, you need to consider how confident you are with the investment, whether you want to be involved yourself or someone else on your behalf. You need to ask these questions before choosing the platform:
Do you want to buy and sell shares yourself?
Have you utilised your ISA allowance?
Do you need more help?
What information do you need to invest?
What pricing structure do you prefer?
Alike these, you need to ask some more questions to decide which platform suits you the best to buy shares.
2) Choose the Shares You Want to Buy
Once you have figured out the platform where you want to invest in buying shares. The next step is to determine what type of shares you want to buy. You need to invest in those companies with whom you are already familiar and are interested.
You can ask around the people about the company's performance and can evaluate the company's past performance. Before you put in your money, you need to ask yourself:
Has the price of shares changed since you last looked at it?
How much risk is involved?
Is the stock changing rapidly?
Can you afford to buy the shares?
So, you need to first understand the company and industry before choosing the shares you want to buy.
3) Balance Your Portfolio by Buying Different Shares
Bear in mind that if you hold shares of only a single company, your investment might be at risk. As your whole investment will be dependent on the rise and fall of that particular company. So you need to buy shares of different companies to spread out the risk involved of investing in just a single company. Ideally, you can balance your portfolio:
By buying different investments like bonds & real estate
Diversifying the shares you buy across different industries, markets and the size of companies
By putting more money in larger companies than the smaller ones as smaller companies tend to have larger risks
Want to start your own business or need to grow an existing business? We will help you to succeed in your business venture. Get in touch with our professional to get the best advice!
4) Make the Payment
Purchasing shares is a straightforward process, you just need to log in to your online account, and click the button of a deal that suits you the most. After doing it you will receive a notification.
You need to have enough money in your account to pay for the cost of shares. Remember that some broker shares a percentage of the assets you hold. Therefore, you need to examine everything to get the best.
Note that you might pay Stamp Duty Reserve Tax (SDRT) of 0.5% that is charged on agreements to transfer chargeable securities. If you are willing to buy international shares, you need to pay a foreign exchange fee (a percentage based on the value of your transaction).
5) Monitor Your Shares' Performance
Once you buy shares, now it's time for monitoring their performance. The frequency of monitoring will be based on the investment strategy you choose. For instance, if your investment strategy is for the long term, you may monitor them on monthly basis. For medium-term strategy, you need to check them daily or twice a week. So, you can review their performance with your online trading account.
When monitoring if you find that the value of your share has reached up to a certain limit, you can sell them to get profit. Additionally, you can get dividends payments. These are based on the number of shares you have and the percentage of profit you are entitled to get with each share. Moreover, you can also reinvest them to buy more shares.
6) Congratulations, You've Bought your Shares!
See it's pretty simple. You can now easily buy the shares. Note this you need to keep all the records and receipts of the transaction along with the profits/gain you made with your shares for tax purposes.
Summing Up
So we hope you have got the basic information on how to buy shares in a company? By following all the above steps in mind, now you can buy shares easily to boost your income stream. Additionally, you also have the option to sell them at the right time to make more profit. Bear in mind that choosing the right company is crucial before putting money into its shares. So you need to research carefully beforehand to avoid the pitfalls and to encash your investment with a profitable sum.
Get help from our cost-effective, reliable, and experienced professionals at Accounting Firms to sort out your financial problems. Register now for free to connect with the professional in under three minutes!
Have a Query? Feel free to get in touch!
Disclaimer: This blog provides general information on buying shares.