Small and Medium-sized enterprises are businesses that have some defined standards. These businesses contain some assets, revenue and number of employees. SME is the heart of the UK economy making around 99% of the nation's business population.
In this blog, we'll discuss what is an SME, its definition, how to start it and its examples.
SME Meaning and Definition – What is an SME?
According to the definition, SME is a small and medium-sized enterprise with less than 250 employees. Similarly, the EU defines SME as a business with maximum 250 employees with annual revenue of less than €50 million or a balance sheet below €43 million.
SME has great importance in the UK as it comprises almost 99.9 per cent with millions of people working across the UK. These people are the key drivers of the UK economy.
Get an accountant for your small business. Click here!
EU SME Meaning and Definition:
SME is a business with less than 250 employees. According to the EU definition, it has divided SME into three categories within the umbrella of SME: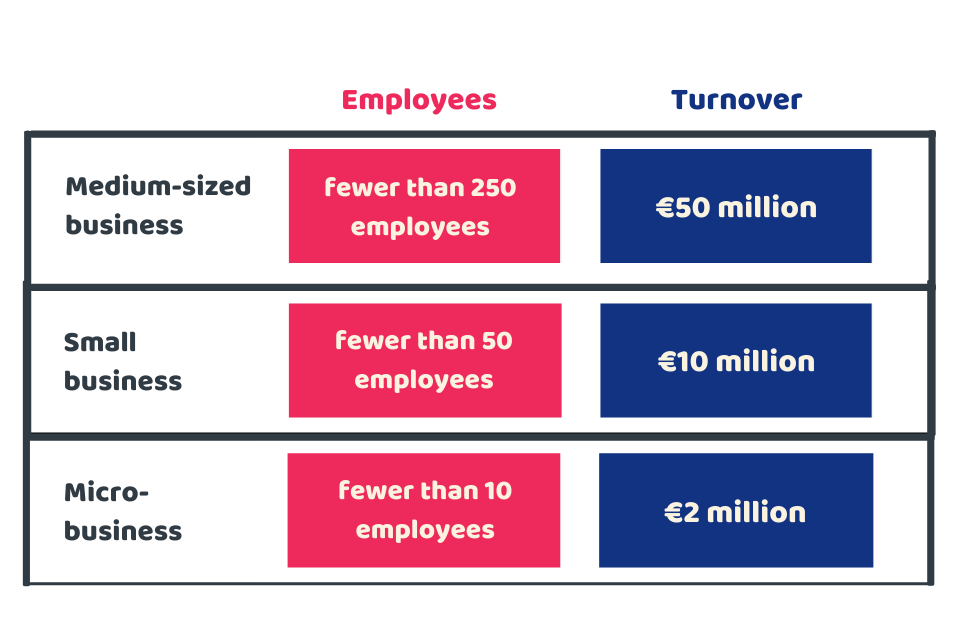 The medium-sized business has less than 250 employees with a turnover of up to €50 million
The small business has less than 50 employees with a turnover of up to  €10 million
A micro-business has less than 10 employees with a turnover of  €2 million.
How can I start SME?
If you've decided to start your own business, there is a lot of free stuff available online. You can join the communities and groups through which you can get great support. There're a lot of articles that will help you to establish your business. We have compiled some general tips for your assistance:
Find out your business offering
Do a deep research
Construct a business plan
Do the registration and legal documentation
Find Customers
Find out expert guidance to start your small business with accounting firms!
Examples of SME (small and medium-sized enterprises):
Here are some common types of SMEs. You can get the idea to start your own business from the following:
Self-employed workers
Contractors
Consultant
Freelancer
Online retailer
Cleaner
Sole Trader
Shops
Caterers
Hairdressers
Shops
Photographer
Tradespeople
Dogwalker
Tradespeople
Small restaurants
Grocery Stores
Garages
Quick Sum Up:
Hopefully, you have known what is an SME, its definition, how to start SME and what are the examples of an SME.
For further queries on SME, feel free to contact us for guidance.
Disclaimer: This blog provides general information on SMEs.