Bookkeeping is essential to take control of your business' finances. Whether you manage your finances yourself or outsource your work to an accountant/bookkeeper, it's better to understand the ins and outs of the bookkeeping process to keep track of your financial information. For this reason, you need to know what is a nominal ledger. So, let's kick off with the basics!
Accounting firms is the UK's only instant Accountancy & Taxation Fee Comparison Website. Whether you're an accountant or an accounting firm or looking for an accountant, Register today to get what you're looking for!
What is a Nominal Ledger?
This ledger is also known as the general ledger. It is a bookkeeping ledger, journal or electronic file where all the transactions of the company's accounts are recorded from journals and sub-ledgers. In simple words, it is the place where all the accounting transactions are recorded.
A nominal ledger contains the records of assets, expenses and payments. In addition, the information of this ledger is used to prepare the financial reports of the balance sheet and profit and loss statement at the end of an accounting period. It also contains charts of accounts that is an index of accounts on the ledger that are breakable as per their subcategories like assets, liabilities, shareholder's equity, etc.
Typically, this ledger is used for multiple accounting purposes like: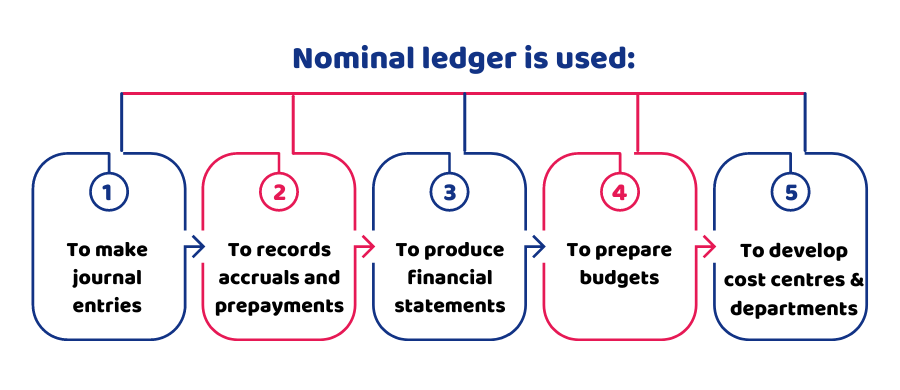 To make journal entries
To records accruals and prepayments
To produce financial statements
To prepare budgets
To develop cost centres and departments
Along with these tasks, a nominal ledger is also used to perform complex accounting tasks.
Searching for an accountant to meet your business needs. Signup now at Accounting Firms in just 3 minutes. We are an independent, unbiased platform providing you with a single place for your accountant search. Get in touch for help!
Traditional vs Digital Nominal Ledger
Traditionally, all the accounting entries were recorded by hand in a physical ledger, which used to take a lot of time. It was used to maintain a complete set of accounting records of a business. Still, some businesses keep this physical journal. Here people used to records data on both the credit and debit sides to balance the books.
Nowadays, with the advent of the latest technology and computerization, you don't need to waste too much time making entries and calculating transactions to balance the book. Basic computer programs – like Excel – have eliminated the need for a physical ledger. However, you still can't rely on it for complex accounting. As everything is performed manually in it and there're many chances of mistakes.
There are many accounting software that have taken over the traditional nominal ledger. With exciting accounting and bookkeeping features, these applications allow you to do bank reconciliation, time tracking, payroll, invoicing and many others function in a handy device. As a result, it has made the accounting processes easier, time-saving and more efficient.
Nominal Ledger: Bank Reconciliation
One of the most significant functions of the nominal ledger is to perform bank reconciliation. It is the process of checking whether your bank transactions match your accounting records.
It compares the cash balance on the company's balance sheet to the corresponding amount to the bank statements to ascertain that balances available on the nominal ledger are accurate. It is done to ensure everything is correct and there are no frauds and cash manipulations.
Quick Sum Up
We hope that you got a basic overview of what is a nominal ledger, why you need it and how it was used traditionally and in modern days. If you want to set up a nominal ledger for your business, you can search online to get various templates and examples. However, handling the accounts of your business yourself is not a practical solution, especially if you lack the financial background and your business is growing. In this instance, you need to be cautious as a tiny mistake can lead to hefty sums. Therefore, investing in an accountant is worth your time and money.
Get help from our Qualified Accountants, Bookkeepers, Tax Experts. Compare their Services & Fee, and Signup now in 3 minutes at Accounting Firms! Contact us now!
Disclaimer: This blog provides general information on the nominal ledger.