Mistakes happen everywhere, by everyone. These are unavoidable. You learn so many new things by making mistakes. However, sometimes, in the professional world, a tiny mistake can cost you a heavy sum. For this reason, you need protection. That's where professional indemnity insurance comes in to protect you against the financial claims made by the clients due to your services. Let's explore more about PI insurance in this quick and simple guide!
Whether you need help from an accountant/tax expert OR want to showcase your services as an accountant, tax expert, bookkeeper and business advisor. There's no better place to market your online shop than Accounting Firms!
Register Today in three minutes and connect with our professionals for FREE!
Understanding Professional Indemnity Insurance
PI insurance (type of business insurance) covers you for the costs against the client's financial or reputational loss because of your advice, service and work.
What Does PI Insurance Cover?
Along with the legal fees, this insurance also covers the compensation payments if a client faces financial or professional loss due to your negligent advice, service, or work. Generally, PI insurance covers the cost of: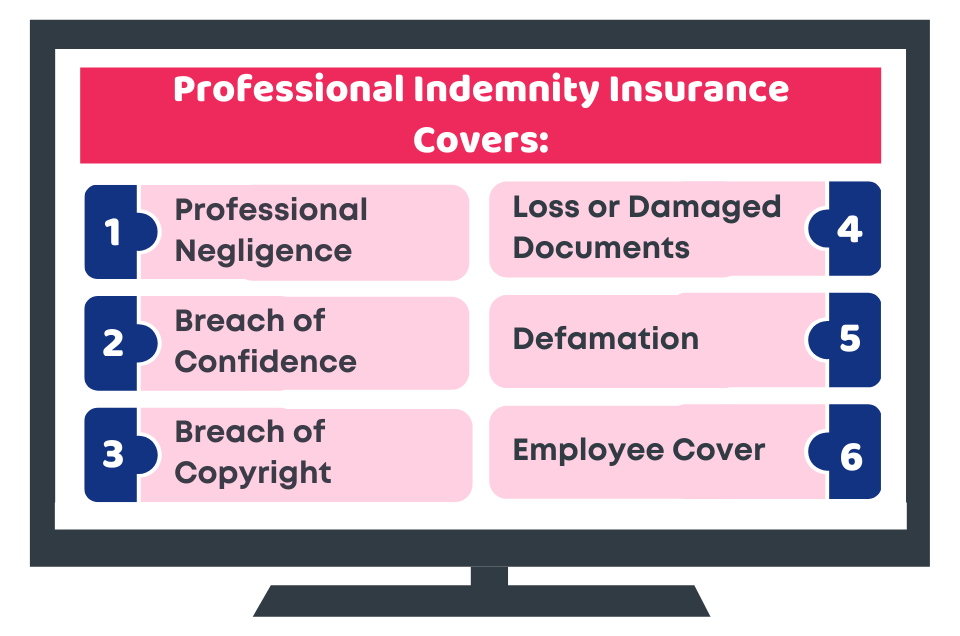 Professional Negligence: Mistake or error or a bad advice
Breach of Confidence: Breach or leak of sensitive data and confidential information
Breach of Copyright: Using copyright-protected content without permission
Loss or Damaged Documents: Loss or damage of client's documents, data and money
Defamation: Publishing wrong, false information that damage the reputation of the company or person
Employee Cover: If your employee performs an act that causes any loss to your client
Who Needs PI Insurance?
Whether you are a self-employed worker or a service-based industry, you may need this insurance to be on the safe side. This insurance is needed if:
You are

a professional who offers

advice, services, or design to your client
Your client needs you to have this insurance before the contract
The industry you are working in requires you to have this insurance
Following are some of the professions that should consider having this insurance:
Accountants
Solicitors
Contractors
Consultants
Designers
Photographers
Estate Agent
Electricians
Hair and beauty professionals
Recruiters
Financial advisors
Tradespeople
Some healthcare professionals
Are you an Accountant or Accounting Firm looking for potential clients? Set up your online account at Accounting Firms to get quality leads and sales like never before. Register now in under three minutes to get started!
How Much PI Insurance Do your Need?
Many of the insurers provide a cover that starts from £50,000 to £5 million. To know how much cover do you need, you should check:
Your Business Contract: If your contract requires you to have this insurance, it'll let you know how much cover you need.
Your Project Worth: As per the value of your project, and its total worth, you can guess the right amount of PI insurance for you.
Take Professional Help: You can get help from a professional and agency to select the right amount of cover as per your circumstances.
How Much Does PI Insurance Cost?
The cost of your PI insurance depends on the following factors:
Nature of your Business: If you are in an industry with high risks, the insurance providers will charge more premiums to you than others.
Business Type and Size: Large businesses are more prone to stakes when it comes to losses (financial and reputational), so you need to have a large cover if you are dealing with a large company.
Level of Cover:  If you want to get a large cover, you need to pay more.
You can run a quick quote to find and compare the rates of different PI insurances.
Is PI Insurance Tax Deductible?
Fortunately, yes, it is tax-deductible and considered an allowable expense. Being tax-deductible, you can deduct the cost of PI insurance when working out your taxable profit. However, you need to keep a record of your income and expense to provide them to HMRC.
Quick Sum Up
To sum up the discussion, we have learned that professional indemnity insurance is a great way to be protected against the legal and compensation charges levied by the client because of a mistake, negligence or breach. It is popular among service-based businesses, as it covers the financial or reputational loss of your clients due to your work. Before buying this insurance, you need to consider all the above-mentioned factors to get the most out of your PI insurance.
Get help from our cost-effective, reliable and experienced professionals at Accounting Firms to provide you with the best advice on PI Insurance as per your circumstances. Register now for free to connect in under three minutes!
Have a Query? Feel free to get in touch!
Disclaimer: This blog provides a basic overview of PI Insurance.