There are a lot of ways to work out the financial health of a business. Though profit and a growing customer base can be a good indicator to measure your business success, however, you can't overlook the importance of cash flow in your business. To have a deep insight into your business's cash flow, you need to understand the working capital to ascertain the financial needs of your business on a daily basis.
So, no matter you are a startup or an established business, you need to understand working capital to operate your business efficiently. So let's explore what is working capital, why it is important, its formula and how can you improve it?
Skyrocket your business revenue with our professional accountants, bookkeepers, tax experts and business consultants at Accounting Firms! Register today in under three minutes – For Free!
What is Working Capital?
Working capital is the lifeline of any business. In simple words, it is the cash or money required by your business to meet its day to day financial obligations. It is used to gauge the financial status of a business. It can be found by deducting current assets with current liabilities. It includes commitments like:
Salary payments

Reimbursement of suppliers

Restocking products

Office/factory maintenance
Why is Working Capital Important?
It plays a crucial role in business as it shows how efficiently a business is meeting its day to day costs. If it is not enough, it could give rise to alarming consequences as the ability to meet expenses becomes a major issue and liabilities can't be met in time. As a consequence, it takes the business towards failure.
If you're looking for a cost-effective, reliable and experienced accountant, tax expert or business consultant, then look no further than Accounting Firms. Register now for free to connect with them!
Working Capital: Formula
This formula is used to work out the amount of money you need to fulfil your short term financial obligations. Here is the typical formula of working capital: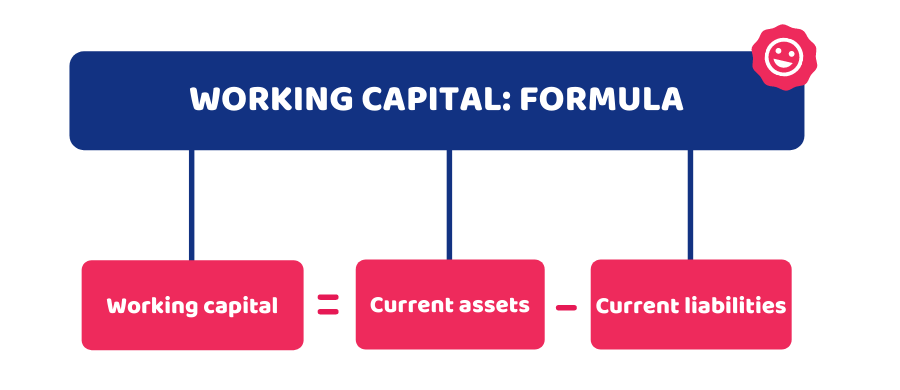 Working capital = Current assets – Current liabilities.
What Factors Influence Working Capital?
Three factors influence working capital:
Receivables

Payables

Inventories
Receivables are debts that a company needs from its debtors. A company needs to improve its collection process to avoid long term period for receivables. In this way, inventory levels must be maintained to the appropriate level to boost the efficiency of the working capital. So a company needs to use its stock to get more cash.
Similarly, creditors are another important factor that can impact working capital. As the more a company takes time to pay its creditors, the longer it will take a company to utilise its working capital for the daily business expenses.
What is Working Capital Cycle?
This cycle shows the time required to turn current net assets and liabilities into cash. It helps to indicate where capital is used for operating a business before getting the return on it. As a result, it helps companies to cut down their working capital cost to improve their business. One of the most reliable ways to do it is to get receivables quicker and pay people at a slower pace. 
Ways to Improve it
Here are some of the ways to improve the working capital:
Credit checking potential customers

Better inventory management

Negotiate better payment terms with suppliers

Faster Invoicing Terms

More efficient collection of invoices and late payment enforcement

Increased financial awareness across all departments
Quick Sum Up
So you are now well aware of what is working capital, how it is important for your business, what factors influence it and how can you improve it. Remember managing the cash flow of your business is crucial for the success of your business for which you must maintain your working capital to keep your business afloat. We hope you have got a better understanding of the topic.
Need Help? Get in touch or Signup now at Accounting Firms to connect with the Best Accounting and Tax Experts near you in just 3 minutes – Register now for Free!
Disclaimer: This blog is written for general information on working capital.