Setting up a business is never easy. Along with efforts, there are legal requirements, documentation, finance, and strategic planning that can be challenging, especially if you're new. It doesn't mean that it's something impossible or unachievable, you can easily start your own business if you're ready for it beforehand. Your time, efforts and courage to face the setbacks during the process will get you to achieve what you want.
To overcome the obstacles while setting up a business, we have enlisted 10 easy steps to follow to make your dream come true. Let's start:
Start your Business with an expert consultation now!
Steps to Start Your Own Business:
There're no defined steps for starting a particular business. However, you should act upon the following basic steps to start the business from scratch. Remember, you may face difficulties during the process, but you should be determined to face them. Take these steps to kickstart the business: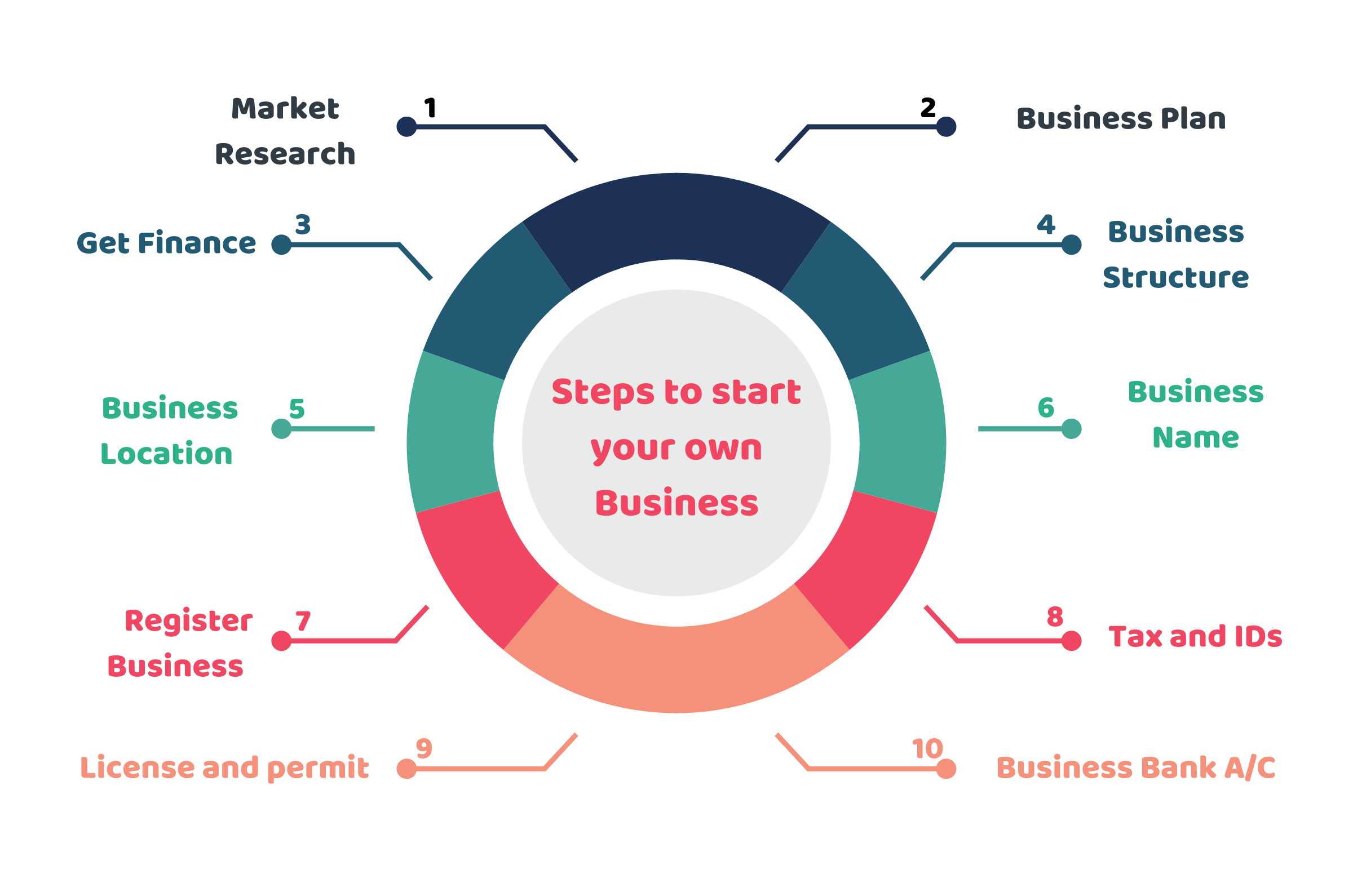 1.  Do a Market Research:
Market research is essential as, without it, you'd be unable to know whether the business you're going to start is demanding or not. Through it, your idea gets the structure of the business. In this process, you gather information about your potential customers, your competitors and your products and services. Following this way, you can find the loophole to work on for your business.
2. Form a Business Plan:
Your business plan is something on which your business is based. It's the strategic document showing the roadmap to form, operate and expand your business. You can convince people and investors to find out your goals to invest and contribute.
3. Know your Finances:
Finance is the blood of your business. You can know about the finance requirements through the business plan. You have the option to get a loan or raise capital to invest. There are a lot of ways to finance your business. You should know how much to invest and when & where to invest.
Need financial help, contact our qualified accountants.
4. Choose the Business Structure:
The legal business structure will decide how your business requires to register as a company. It also determines how and how much you file and pay taxes. The common business structures are sole proprietorship, partnership, corporations and limited liability company.
5. Find out the Business Location:
You should select a location that suits your business. The business location is crucial because it's going to decide your legal requirements, taxes, and revenue. If you're trading a certain product, you should find out a place where your transportation cost is lesser.
6. Select a Business Name:
While Setting up a business, the business name is essential. It determines your brand. Finalizing a business name is not so easy. It needs time and consideration to finalize a business name. As the business name should reflect your trading and it shouldn't be used before by another business.
7. Register Your Business:
After finalizing the name, you can register your business based on the name to be legally protected and secure. Now you'd be considered a separate legal entity and your name would be saved in companies house.
Register at Accounting firms with us for free!
8. Federal And State Tax IDs:
After starting your business, you'd be provided an employer identification number (EIN) whereby you can open a bank account and pay taxes, etc.  It's a kind of social security number. Many countries require this number along with tax IDs.
9. Licensing:
To be legally compliant, you need to get a permit and license to operate your business. This varies based on your company, location, state and other factors.
10. Open Bank Account:
You need to open a business bank account to do the transactions of your business. This account will help you to manage legal, tax, and other issues we face on daily basis. You can easily set up a business bank account within few days.
How we can help:
Setting up a business is not a child's play, therefore you need to follow the above steps to achieve your business pursuits.
At Accounting firms, you can catch up with Accountants who are there to help you to start and grow your business.
Feel free to contact anytime!
Disclaimer: This blog post is for general tips to start your business.